EasySolve Software is dedicated to providing professional quality geoscience software at a fraction of the typical market price. Developed by industry professionals for their own use, these programs are high quality, easy to use, and the best value on the market today. Currently available for free download are a variety of tools for the environmental and earth science industry including Borehole Log, Hydraulic Conductivity & Variogram Software.
All EasySolve Software is now free, however, the programs will only run in "Demo Mode" until registered. After a program is installed, registration is completed over the phone. Additional registration information is found in the "Help" section of the running program. All EasySolve programs require Microsoft Windows 95/98/NT/XP/Vista/7.
Note: Windows 7 users may get the following error during installation: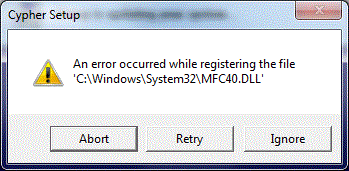 Please click "Ignore" and the software will install successfully.
Guarantee: If, within 15 days, you are not completely satisfied with the performance of any of our programs, we will refund 100% of the purchase price (90% for credit card customers).

EasyLog : Borehole Log Software - A tool for creating graphical reports of borings, test pits, and groundwater monitoring wells. Improve the look of your professional reports with this easy to use Borehole Log Software. Full version now FREE.

SizePerm : Hydraulic Conductivity Software - Calculates hydraulic conductivity of unconsolidated material from grain size analysis using 10 of the most accepted methods, and provides detailed reports with supporting documentation. The least expensive way to determine hydraulic conductivity for your projects. Full version now FREE.

OmniVar : Variogram Software - An interactive, graphical, 2D variogram analysis tool, providing a graphical report of the experimental data and fitted model with supporting documentation. Full version now FREE.

Some of our customers:
Army Corps of Engineers - Vicksburg, Mississippi
Black Beauty Coal Co. - Evansville, Indiana
Bureau of Reclamation - Denver, Colorado
Malcolm Pirnie, Inc. - Columbus, Ohio
Miami University Geology Department - Oxford, Ohio
Resource Control Associates, Inc. - Pawtucket, Rhode Island
Total Technology, Inc. - New London, Connecticut
TVA Engineering Lab - Norris, Tennessee
Twentymile Coal Co. - Oak Creek, Colorado
University of Minnesota - Duluth, Minnesota
Virginia Geotechnical Services, P.C. - Richmond, Virginia

Related Links:
National Ground Water Association
The Geotechnical and Geoenvironmental Software Directory
HYDROWEB - International Association for Environmental Hydrology
Drillers Supply International - Mining and Water Well Equipment
Water Online - Information Source for the Water and Wastewater Treatment Industries
Environmental Expert.com - The world's leading B2B marketplace for environmental companies & professionals
Nicholls Construction - Provides a comprehensive service of heating and cooling equipments, heat pump installation and water well boreholes, water boreholes, private water supply, water wells, water well drilling with variety of ground source heat pump systems like heat pump water heater, air to water heat pump, swimming pool heat pump, ground source heat pump, carrier heat pump, and electric heat pump in Sussex UK.


Articles:

You may e-mail us at: info@easysolve.com
This page was last updated on February 20, 2013.